BRIDGE STREET UNITED CHURCH'S
~~ MEAL PROGRAMS~~

Bridge Street United Church has operated meal programs since 1990.
2021 Meal Program Overview…
Meal programs at Bridge Street United Church respond to hunger and food insecurity in Belleville, supporting members of our community in meeting their daily food needs.

In 2021, the Meal Programs consisted of a Daily Lunch program and weekly Thank God It's Friday frozen meal distribution.
A total of 53,620 meals were served in 2021; 48,218 Daily Lunches and 5,402 TGIF frozen meals.

Partnerships remain essential to the Meal Programs:

The Enrichment Centre for Mental Health, St. Thomas Anglican Church and Christ Church Anglican prepared meals on a regular basis for distribution through the Meal Programs.

Approximately 150 unique volunteers participated in the Meal Programs in 2021, with up to 100 active at any one time.
The Meal Programs are led by three volunteer Co-Coordinators and three part-time, employed staff.
Direct costs (ingredients, packaging, supplies) averaged $2.41/meal; facility and personnel costs are additional. The total Meal Program budget exceeded $225,000 in CY 2021.
Funding was received from individual donations, major donors, grants from private organizations and various levels of government, and in-kind donations from numerous local individuals, organizations and businesses.

Scroll down for details on how to donate to Bridge Street United Church's meal programs…
COVID-19, TAKE-AWAY LUNCH PROGRAM:
To respond to need during COVID-19, a free, take-away, sandwich & soup or stew or salad lunch has been provided since March 27, 2020 – daily from 11:30 am – 1 pm, 7 days/week – at Bridge Street United Church.
This COVID-19 lunch program has been financially supported by the City of Belleville (Social Infrastructure Funding), The Corporation of the County of Hastings, the Government of Canada – Employment & Social Development Canada's COVID-19 Emergency Community Support Fund (ECSF) through United Way Hastings & Prince Edward, and personal donations from people like you. To make a donation online, scroll down to the "Donate Now" button. Other donation options are also listed below. Thank you!
Lunch distribution takes place via our 60 Bridge St. East entrance. Only takeout lunches are distributed; a sit-down meal is not served. Guests are welcomed inside for a brief respite from the weather, receive a meal, and then exit the building before eating. TGIF frozen meal distribution now takes place during lunch distribution on Fridays, from 11:30 a.m. to 1 p.m. (no longer from 2 – 4). A partner in the preparation of TGIF meals is St. Thomas' Anglican Church.
Health and safety protocols to mitigate the risk of spreading COVID-19 during this inside lunch distribution will continue for all guests and volunteers.
These include:
– anyone who enters the building will be required to wear a mask and sanitize their hands, and
– physical distancing will be encouraged at all times.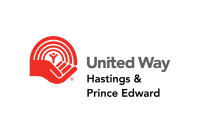 Click here for a lunch program poster
~~~~~~~~~~~~~~~~~~~~~~~~~~~~~~~~~~~~~~~~~~~~~~~~~~~~~~~~~~~~~~~~~~~~~~~~~~~~~~~~~~~~~~~~~~~~~~~~
Our meal programs depend on donated or discounted food, monetary donations and donations of thousands of volunteer hours, for which we are sincerely grateful.
How to donate to the ministry & mission of Bridge St. United Church …
If your donation is intended to support the meal programs, please make a notation on your cheque or in the message fields of Interac e-Transfer and Canada Helps.
INTERAC e-Transfer – BSUC is INTERAC e-Transfer compatible! Simply add admin@bridgestchurch.com to your INTERAC e-Transfer contact list and your donation will be automatically deposited into the church's operating bank account (no security questions/answers to worry about). If you're not yet registered with the church office, please send a separate e-mail to admin@bridgestchurch.com and provide us with your mailing address so a receipt can be issued to you. If you are registered with the church office to receive charitable donation tax receipts, your INTERAC e-Transfer donations will be recorded and receipted at the end of the year.
Cheque –

Please mail to 60 Bridge St. E., Belleville, ON, K8N 1L7.

PAR (Pre-Authorized Remittance, monthly, administered by the United Church of Canada) – Please contact the church office @ admin@bridgestchurch.com to arrange for this method of contributing.
Credit Card –

Click the "Donate Now" button, below, to contribute through "CanadaHelps". You will be receipted directly by Canada Helps at the time you make your donation.
~~~~~~~~~~~~~~~~~~~~~~~~~~~~~~~~~~~~~~~~~~~~~~~~~~~~~
Steve van de Hoef, Community Engagement Programs Manager, works alongside Sue, Rick and Ian, Volunteer Co-coordinators. Steve's duties include working toward greater cooperation with other agencies providing food-related programs in Belleville, and obtaining and analyzing data to gain a better understanding of food insecurity in Belleville and the surrounding area and to support community and policy efforts to address it. These duties extend the work of the meal programs beyond serving meals. We trust that this additional effort will help us to better accomplish our aim of creating a community which is food secure. Contact: 613-962-9178, ext. 72.
~~~~~~~~~~~~~~~~~~~~~~~~~~~~~~~~~~~~~~~~~~~~~~~~~~~~~~~~~~~~~~~~~
PLEASE SCROLL DOWN FOR INFORMATION ABOUT "KNITTERS UNITED"
~~~~~~~~~~~~~~~~~~~~~~~~~~~~~~~~~~~~~~~~~~~~~~~~~~~~~~~~~~~~~~~~~~~~~~~~
MEAL PROGRAM DESCRIPTIONS:
COVID-19 Lunch Program – See above for details & updates.
"THANK GOD IT'S FRIDAY" (TGIF) … Church-prepared/frozen meals are distributed every Friday from 11:30 a.m. to 1 p.m. Register on your first visit.
"END-OF-THE-MONTH " (EOTM) …

This program currently suspended due to COVID-19

. This program is similar to "Inn from the Cold", described below, but is held March through December on the last Tuesday and Thursday of each month. (APPROX. – be sure to check schedule, below).

Doors open/coffee served at 4:30 p.m.
Hot meal is served from 5 to 6:30 p.m.

"INN FROM THE COLD" (IFTC) …

This program currently suspended due to COVID-19.

Nutritious, hot meals served for 42 nights – every night from January 18 through to February 28 at Bridge Street United Church, 60 Bridge Street East entrance, Belleville. Doors open/coffee & tea available at 4 p.m., soup is served at 4:30 p.m., and the hot meal is served from 5 to 6:30 p.m. Intended to provide nutritious meals during the coldest time of the year when heat & electricity expenses eat away at funds that would otherwise be used for groceries… and provide an opportunity for social interaction during this six-week period. There is no cost for these meals, and no registration is required. (During this six-week period, if guests are unable to come to the church from 5 to 6:30 p.m. when the hot meal is served, frozen meals can be picked up, daily, between 2 and 4 pm. For this component of the Inn from the Cold program, registration is required on first visit by showing ID for the number of meals being picked up).
~~~~~~~~~~~~~~~~~~~~~~~~~~~~~~~~~~~~~~~~~~~~~~~~~~~~~
Knitters United help to keep our dinner guests (and more) warm …

Have you been thinking of joining Knitters United? We welcome newcomers and new knitters from the community to join us, as we knit hats, mitts, and friendships. You don't even have to own needles! We have a supply of them, plus yarn, easy patterns and lots of help to get you started. Come as regularly as you like. We always meet on the second and fourth Wednesdays from 3-5 p.m. In addition, during Inn from the Cold, we also knit on Saturdays, also from 3-5 p.m. We welcome you and your friends to join this community group that knits for the community. For more information, call Elizabeth, 613-968-9382.